Dr Anthony (Tony) Caiafa is one of only a handful of veterinarians globally that have degrees in both Veterinary Science and Human Dentistry, and he is the only one currently working in the veterinary dental field in Australia.
Tony graduated from Melbourne University in 1978 with a Bachelor of Veterinary Science. He worked in companion animal practice in Melbourne and the Mornington Peninsula for 16 years, gaining memberships in both small animal surgery (1992) and veterinary dentistry (1993), before returning to Melbourne University in 1995 to study Dentistry.
Studying human dentistry allowed Tony to further his knowledge of veterinary dentistry, in particular to understand in more detail the pathological processes associated with oral diseases.
In 1998 Tony graduated with a Bachelor of Dental Science and was dux of his graduating year. Since then he has worked in both human dental and veterinary dental fields. He was a senior lecturer and consultant in companion animal dentistry at University of Melbourne from 2000 till 2008.
Tony has continued his education in the human dental field in the area of implantology and has been involved with research led by a world-renowned specialist periodontist, Dr Stephen Chen.
Tony moved to the Sunshine Coast in 2008, and now divides his time between working as a human dentist on the Sunshine Coast, seeing veterinary dental cases, and teaching veterinary dentistry at conferences and workshops in Australia and overseas, as well as teaching the undergraduate veterinary science students at JCU, Townsville.
Tony also provides pro bono services at the RSPCA in Noosaville.
In 2018, Tony visited the Lionsrock big cat sanctuary in Bethlehem, South Africa, assisting in the dental treatments of rescued lions, tigers, and African wild dogs. (VIDEO: Channel 7 news about Tony's visit to Lionsrock in South Africa.)
In his spare time Tony enjoys cycling and going to the gym and experiencing the local cuisine while travelling overseas. Tony has a very spoilt elderly Australian mist cat, Jake.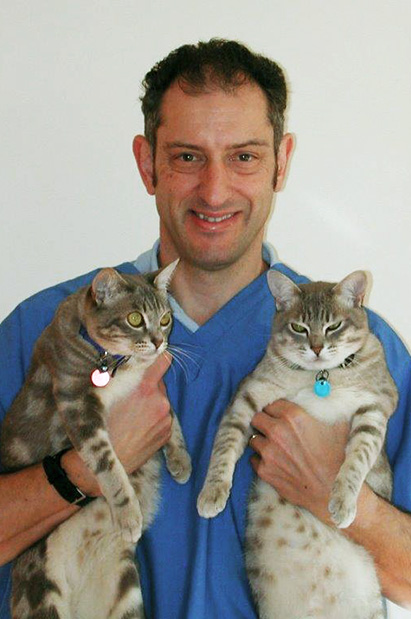 Dr Kayoko (Kayo) Kuroda graduated from the University of Queensland with a Bachelor of Veterinary Science in 2006. Since completing her degree, she has pursued her twin passions of teaching and clinical practice while working in small animal general practice around Queensland.
Her thirst for knowledge has led her to pursue additional educational opportunities across Australia and around the globe. Kayo obtained Membership of the Australian and New Zealand College of Veterinary Scientists (ANZCVS) in Small Animal Dentistry and Oral Surgery in 2018, with a view to further specialisation.
Kayo currently provides pro bono advanced dentistry services at the RSPCA Brisbane Animal Care Campus in Wacol and has worked as an educator at small animal dentistry seminars and workshops.
In her spare time, Kayo enjoys travelling with her partner, and spending time with two precious feline fur babies, April and Jordie.
Dr. Suruchi Perera graduated from the University of Melbourne with a Doctor of Veterinary Medicine in 2015. After graduation, Dr. Suruchi worked in general practice before moving to a shelter, where her interest in small animal dentistry developed.
In July 2022, Suruchi obtained Membership of the Australian and New Zealand College of Veterinary Scientists in Small Animal Dentistry and Oral Surgery.
Currently pursuing ongoing training in small animal dentistry through her association with Mobile Pet Dentistry, Dr. Suruchi aspires to improve the oral health of all cats and dogs by providing evidence-based treatments. She also hopes to improve the knowledge and awareness around oral disease in our pet parents.
Suruchi is involved in dental training programs for vets and vet nurses.
In her spare time, Suruchi enjoys spending time with friends and family, going on hikes and cuddling her spoilt fur babies, Lily (Kelpie X) and Cleo (Domestic Short Hair).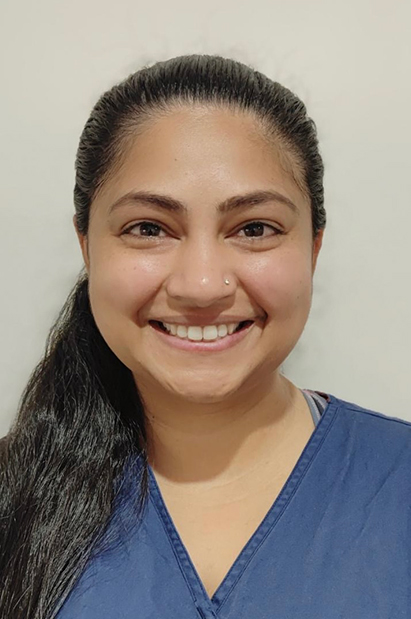 Dr Alison Caiafa is both a veterinary surgeon and a human dietitian. She has worked in companion animal practice in Victoria, and as a Technical Services Veterinarian for Hill's Pet Nutrition.
Her roles in human dietetics have included 15 years working as a clinical specialist paediatric dietitian at a tertiary referral hospital, and in private practice specialising in paediatrics and sports nutrition.
In her spare time Alison competes in long course triathlon.
Alison has a management role in Mobile Pet Dentistry.